Coming soon
---
---
Mary Laube: GLINT
"These works merge personal iconography with collectively built archetypes to depict a mythologized reality comprised of both mundane experiences and mysterious rituals. Born from the everyday, these quiet paintings, while small in size, invoke monumental and other-worldly dimensions." -Mary Laube
Working remotely with minimal supplies, Mary Laube began a series of watercolor sketches and collages during a residency in Wales in the summer of 2017. The attic studio, housed within a 200-year-old building, as well as the surrounding village served as a reservoir for Laube's research. Architecture, weathered furnishings, imagery culled from bookshelves, and long strolls through nearby graveyards and gardens found representation within her works. These studies were brought back home to her studio in Knoxville, Tennessee where she began painting through a process of drawing, masking, and layering. The resultant images are flattened cutouts that lack the specificity of their mixed origins. Tombstones become radiators, gardens inhabit interiors and the legs of a table entrap. Through the honing of form, familiar household objects resist a simple interpretation and speak of memory, loss, and the ethereal.
Executed prior to Laube's time in Wales, the works comprising
Glint
investigate the theme of transformation. In
Cormere
, Laube only includes what is essential: A stoic radiator hovers above the floorboards and wall, fixed with a matching pair of rectangular vents. The viewer's gaze circles a matrix of lines forming a mesh-like structure, without breaking past the picture plane. Absence of spatial depth keeps us on the painting's surface. Embedded within the static, compressed perspective is a latent energy, capable of coalescing into three dimensions, like the closed pages of child's pop-up book. The skewed viewpoint of
Jacob's Ladder
is only notable in the horizontal wooden rungs: both wall and floor are reduced to fields of color and only hint towards an interior. Assuming the vantage point of a toddler, we are contained by the merging
of the ladder's component parts and shadows, preventing our gaze from moving beyond the object in any direction. Caught within the painting, we retrace the same paths, as though confined within an old memory or recurring dream.
The confrontational use of perspective and simplification of forms unify Laube's ouvre, prying the imagery from its commonplace surroundings and elevating it to a mystical play of light and color. The works are tactile, but somehow escape the gravity of the objects represented therein. We are trapped within the stark embellishment of form. The patterning of a paper window blind or legs of a table become retaining bars. Claustrophobic cropping, as seen in
Narrow Gauge
, withholds interpretable information, catching us in short laps of repetition.
Only in
Stilled Clatter
are we allowed respite. Past the familiar confines of a wooden structure and its shadow, a field of light emanates. What beckons us beyond this indiscernible space? An afterglow? Vestiges of a distant recollection? Or some tantalizingly distant, intangible place?
---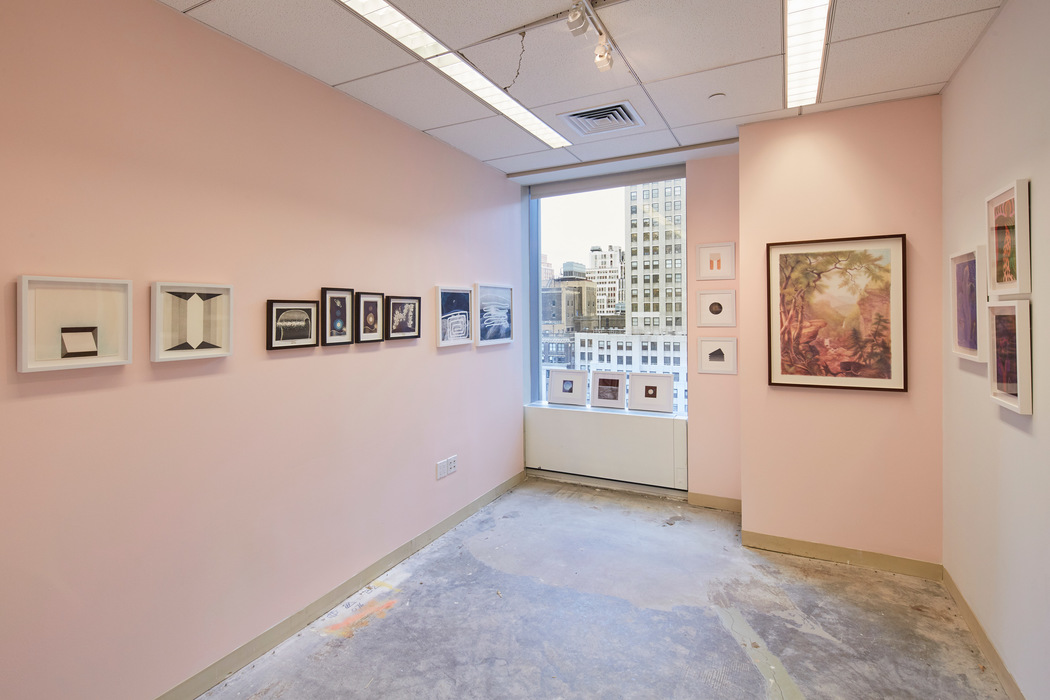 Frontiers
In the mid 19th century, painters of the Rocky Mountain School set out on government-funded expeditions to document the American West. Moved by such explorations, Thomas Moran painted "The Grand Canyon of the Yellowstone," providing the viewing public with a first glimpse of the unsettled frontier. Gradually, the West was revealed through the heightened sense of the sublime endemic to that artistic movement, stimulating the public imagination. Tourism increased, funding the development of the railroad and further driving westward expansion.
Prior to advanced methods of photographing space, 20th century artists such as Chesley Bonestell helped visualize the cosmos. The painstaking task of telescopic observation often resulted in over-rendered images which verged on abstraction, unconstructive in evoking the grand scope of the heavens. Collaborating with astronomers, Bonestell translated observational data into paintings of habitable worlds. Starting in the 1950s, National Geographic began to publish his hyperrealistic renderings of the solar system. These images were instrumental in developing the culture of the space race, eventually leading to the first man on the moon.
In the 21st century, the definition of frontier expands to accommodate extra-solar planets, hidden dimensions, and the quantum universe. Frontiers considers the immediate threshold preceding experiences of the unknown, and explores the varied ways artists draw from what is understood to envisage the otherworldly. As we assimilate new bodies of knowledge, we make sense of strangeness through familiar systems. Guided by intuition, Matthew F. Fisher, Pete Schulte, Mary Laube, Mike Nudelman, Kristy Luck and Ian Etter allude to past cognizance while visualizing new horizons.
---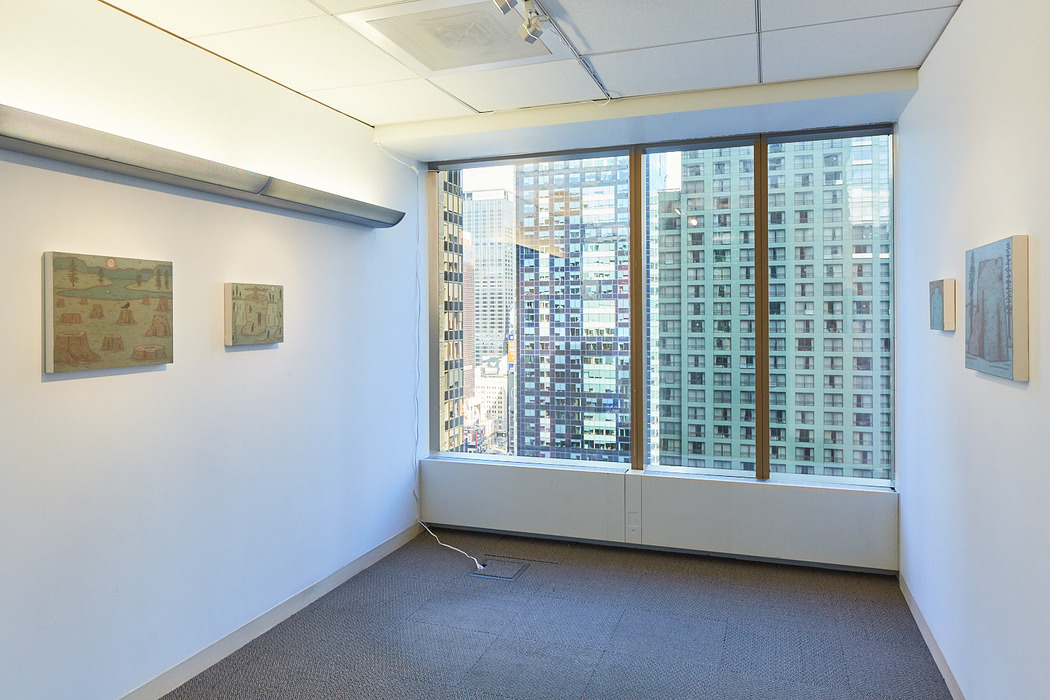 John Dilg: The Fourth Primary
For Wittgenstein, green is not a secondary color, but one of four primary colors. As we move from yellow to blue, we reach a point that is markedly green, not a blue that's yellower or a yellow that's bluer. As he notes, "For me, green is one special way-station from the colored path from blue to yellow, and red is another." The paintings of Iowa City based painter John Dilg live fully within this anomalous primary, a truth both elemental and compound.
Dilg begins his paintings with a sienna ground and charcoal drawing. Thin, successive layers of opaque colors are then scumbled over the surface of the canvas. The warmth of the underpainting cuts through a restrained palette of cool yellows, blues and greens. This method of layering effectively ages the painting and the resultant image always lies just beyond reach, existing in a fog that proves the spectrum from green to blue to be infinitely reducible. And it is in reduction that Dilg speaks of memory. The modest scale, intimate touch and simple imagery convince us of his sincerity as he constructs "images (that) both recollect and recompose important memories that, though personal in premise, could be applicable to anyone." Dilg's paintings are a peculiar recounting of stories of the land he lives in, memories both deeply personal and collective.
As an avid collector, Dilg has an impressive reservoir of paintings from untrained artists. Imagery from this collection is woven into his work. For example, some paintings begin with imagery from a found painting that is studied, reworked in small thumbnail sketches and transferred to the canvas once it has taken shape. This process transforms the original image into a newly formed icon by releasing it of the weight of its own history. His personal history is mixed with that of his sources, all of which are stripped down to an essential quality that strives for the archetypal. Dilg's convincingly personal paintings tell a universal story based in multiple histories.
Fourth Primary consists of eight paintings that highlight the clandestine role autobiography plays in Dilg's work. His story is almost exclusively told through reductive, iconographic landscapes. The world reflected back in the Claude glass, a tool once used by traditional landscape painters, is highly reduced in both color and detail. This reduction correlates to Dilg's way of processing imagery. He uses painting to capture small moments that are both distinct and archetypal. Dilg's personal story is central to his work, but rendered indistinct through blending it with his sources.